How to Present Company Roles in PowerPoint Using Icons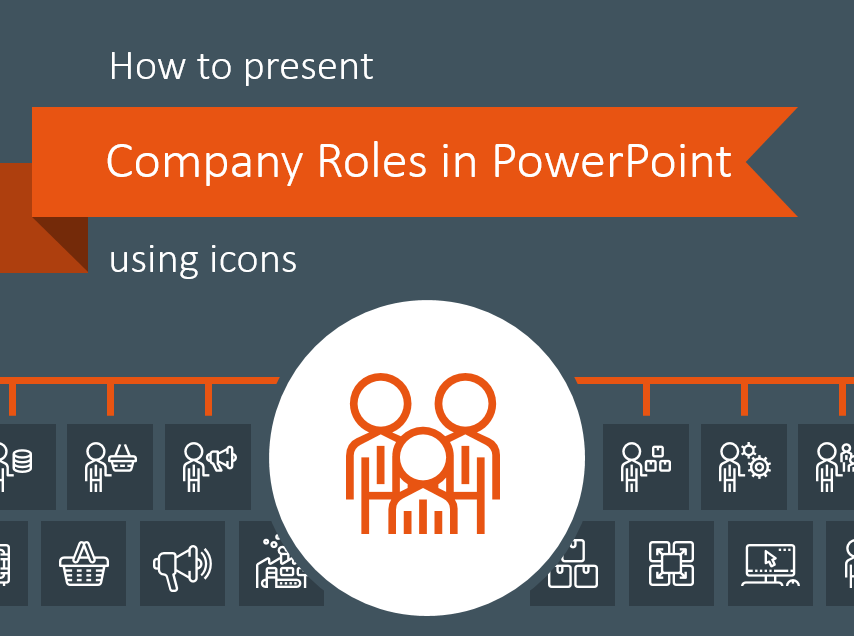 How should you present company roles and organization charts? Whether your goal is to illustrate the structure of your organization or to make a presentation about company roles and departments, you can accomplish either with modern, creative icons.
If you want to showcase your company roles and department structure in a creative, modern way with very little design work, check out Company Roles and Department Structure Outline Icons.
Why is it important to present the company management structure in an interesting way?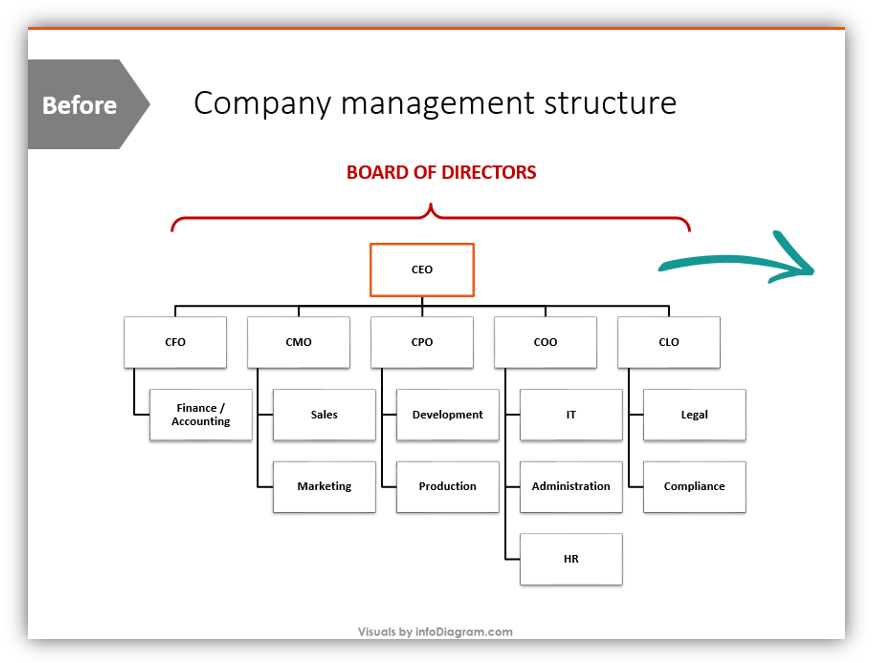 The slide above is boring. It lists the positions, but it doesn't tell a story. It doesn't explain the relationships between positions in an intuitive, easy to follow way. Visually speaking, it's dull. The lack of color or interesting icons shuts the audience down.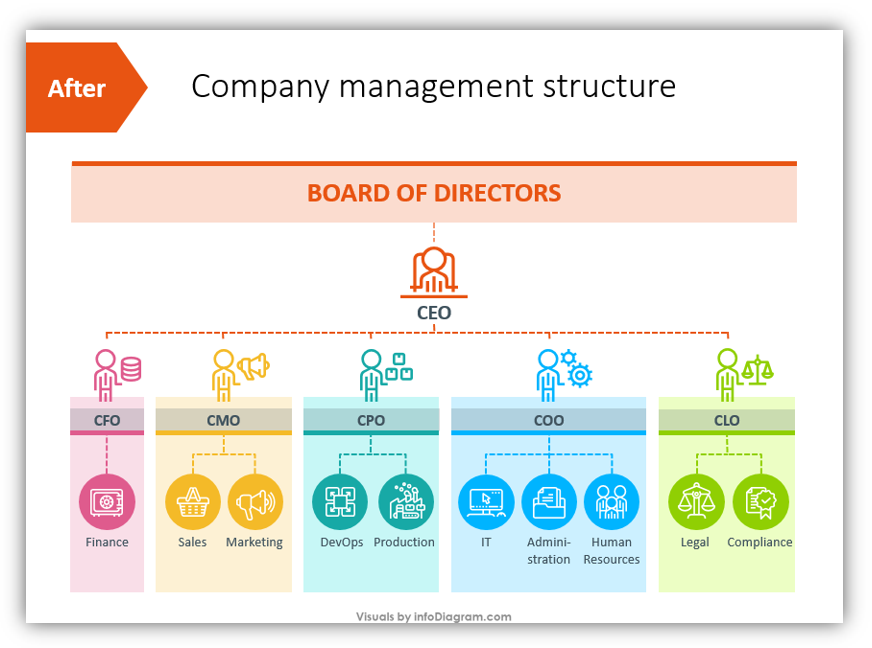 This slide, by contrast, is colorful and engaging. It's clear to see which positions are related. The chain of command is obvious and highlighted in a creative way. The colors have been modified so each board member and their staff stand out. The icons selected to represent each position were deliberately chosen to match their responsibilities.
Want to learn how you can give your own organization chart a facelift? Let's get started.
Draw a basic organization chart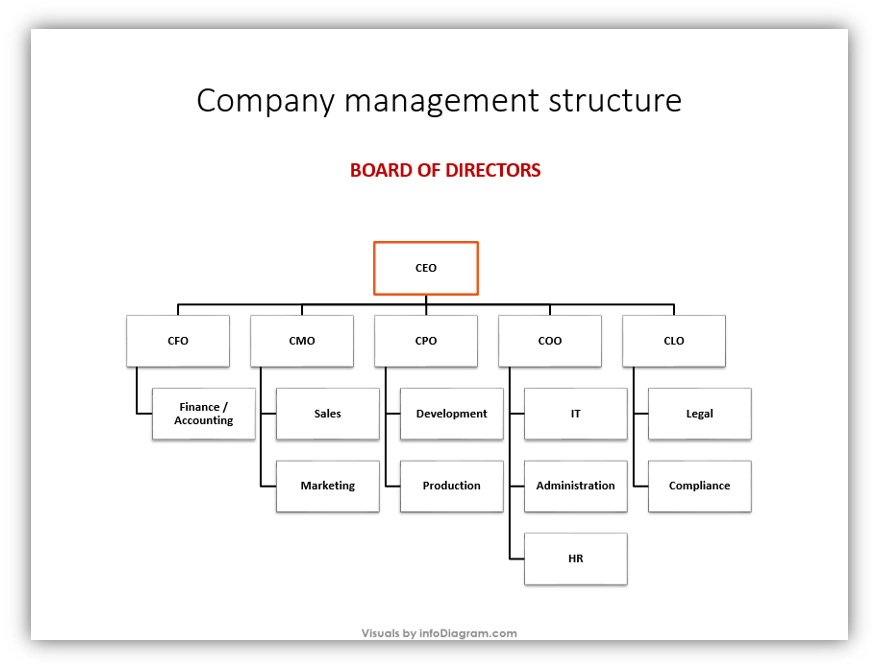 The easiest way to accomplish this is by using SmartArt in PowerPoint.
Give your organization chart a modern look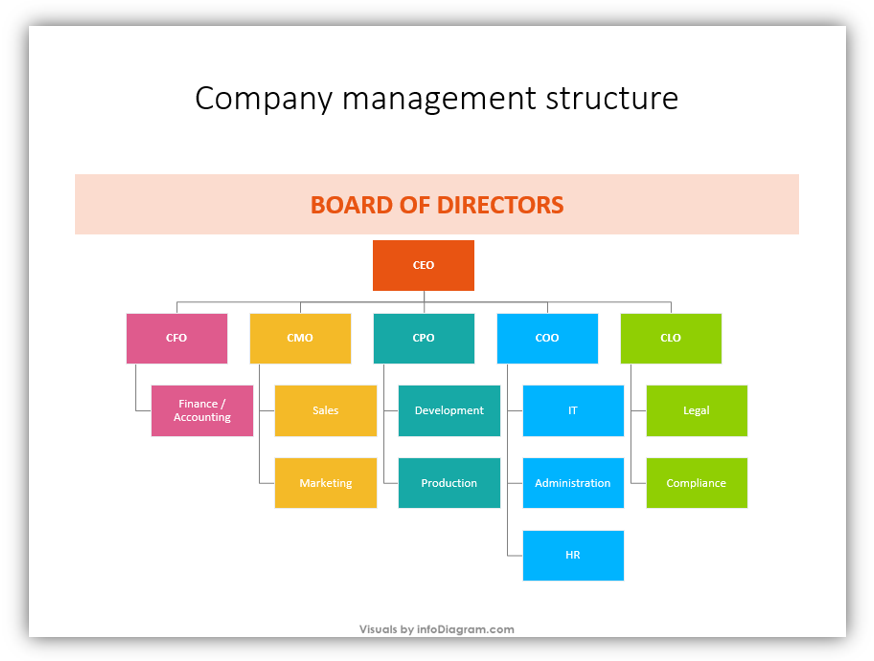 A simple way to accomplish that task is to remove the default outlines and change the colors. Not sure which colors to use? Match your presentation to your brand colors for an obvious, easy to mimic color palette.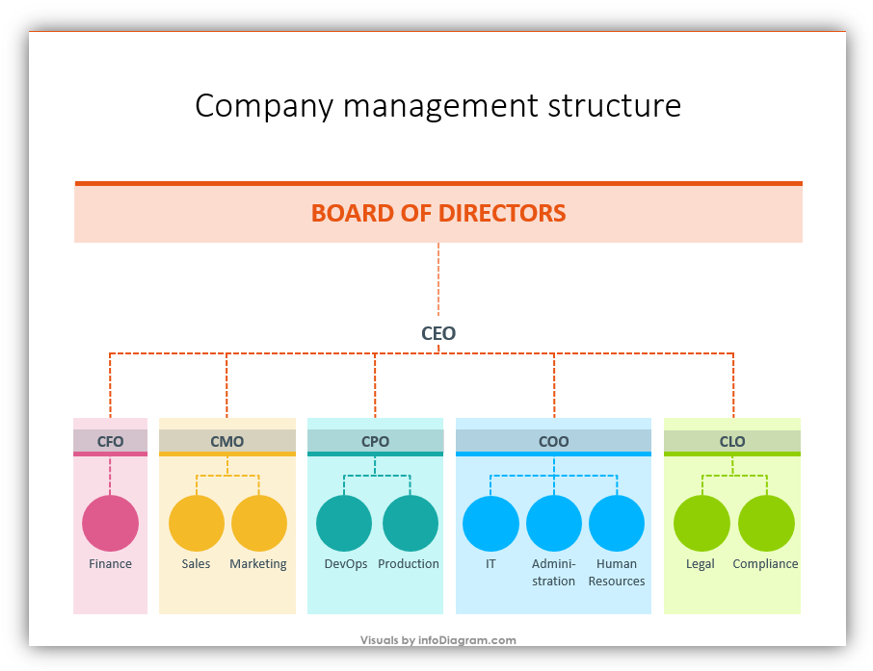 While creating such charts, try to think outside the box. For example, we came up with such a design for a simple management structure. It looks nicer, simpler and easier to perceive.
Choose specific icons to represent company roles and departments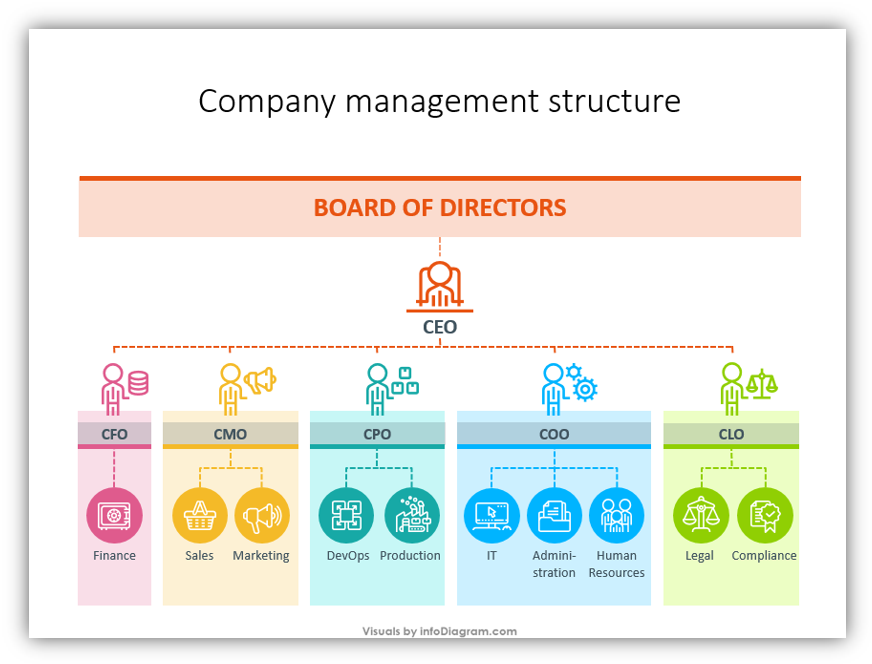 The slide above offers some suggestions for graphics which can represent certain positions or divisions within your organization or company. If you don't have the time or the know-how to build your own, check out the Roles and Departments icons here.
Don't bore your audience with a dull, monochrome presentation. Add color and a touch of modern style. Having a visually interesting presentation will help maintain your audience focus and help you to explain your points.
Graphical Resources: Company Roles and Department Structure Outline Icons
You're welcome to check out the full icon collection by viewing the Company Roles and Department Structure Outline Icons collection. Those icons can help you to make these presentations without needing to design to draw any shapes using SmartArt.
You'll still want to modify the icon colors and choose between the different styles available in the set such as with a background or without a round outline. However, when you have the bulk of the design work done for you, you'll find that the process moves much more quickly. If you could have a uniform, modern, visually striking presentation graphics without investing significant time or resources into graphic design, why wouldn't you? If you'd like to have more variety when describing departments or general business topics, you might also visit our Business & Marketing slide decks collection.